Accessing Employee Wi-Fi
For Windows 10 Computer
Locate the Wi-FI symbol on the task bar(lower right hand side of desktop). Click on the icon to open the available networks to choose from.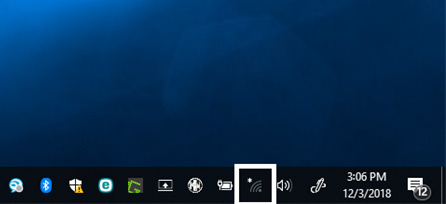 Locate the Wi-Fi network named MotorWerksEmployee and click on it. Next, check the box next to Connect automatically and then click Connect.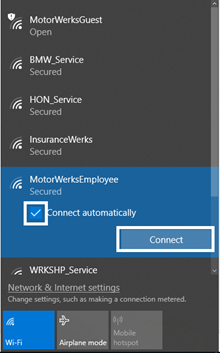 Enter the password for MotorWerksEmployee. Once the password has been entered, click Next.
Please contact the Motor Werks IT Department to receive the password (email support@motorwerks.com or add a ticket in the portal at https://support.motorwerks.com).
The system will prompt whether you would like your PC to be discover-able. Choose Yes for this question.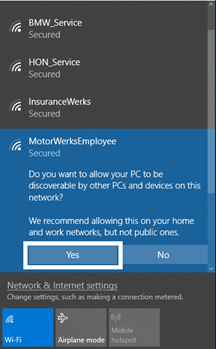 A web page will appear asking for your Username and Password.

Your Username is the first part of your Motor Werks email address

Example: John Doe's Email: jdoe@motorwerks.com. Username=jdoe

Your password is the same password you use to log onto your computer.
After entering all your credentials, click Sign In to connect to the Wi-Fi.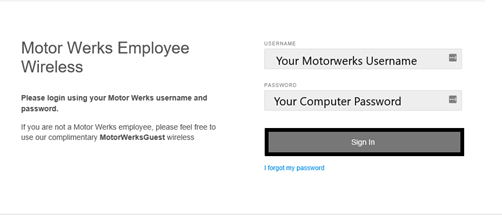 You are now connected to the Motor Werks Employee Wi-Fi.